AusOptic have designed the forte™ range of small form-factor pluggable (SFP) transceivers to perform in the most demanding telecommunication and data communication applications.
What makes a forte™ small form-factor pluggable (SFP) different?
Laser welded and tuned spigot for accurate connection
Quality Japanese laser for trouble free operation up to +4dB
High quality FR4 PCB
Customised EPROM or MCU for DDM and Non-DDM operation
Locally customised for Cisco, Juniper, HP, etc.
Five year warranty
24 hour turn-around recoding service
Descriptive part number for ease of ordering
Barcode serial no. tracking
High quality receiver down to -37dB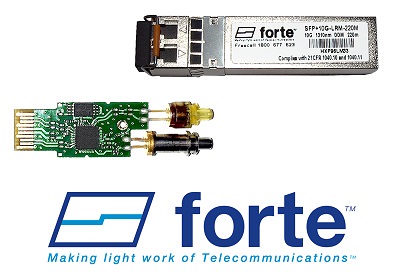 Click here to view the range of forte™ SFP modules available in our online store.
Pick up the phone now and talk to us about how you take advantage of the forte™ difference.