Leverage the benefits of fiber and distribute multiple fiber runs from a central location - with your existing equipment.
Omnitron's Ethernet media converters and high-density chassis configurations enable scalable, pay-as-you-grow fiber distribution from copper Ethernet switches so you can preserve your investment in existing network equipment.
---
iConverter 19-Module Chassis

19 fiber runs from 2RU with redundant power using iConverter Managed Media Converters
38 Gigabit fiber runs from 2RU using iConverter 2GXT Media Converters
---
miConverter 18-Module Chassis

18 fiber runs from 1.5RU using miConverter Unmanaged Miniature Media Converters
---
FlexPoint 14-Module Chassis

14 fiber runs from 2RU with redundant power using FlexPoint Unmanaged Media Converters
---

Application Example
In this application diagram, iConverter 2GXT media converters are installed in an iConverter 19-Module Chassis for fiber distribution from a Gigabit copper switch. The 2GXT is a dual-channel media converter and four-port switch with two 10/100/1000BASE-T RJ-45 ports and two SFP ports. In this application, the 2GXT is configured as a dual-channel media converter, and provides thirty eight fiber runs from only 2U of rack space. At the end each fiber run, an iConverter GX/T2 standalone media converter provides copper to fiber conversion for connectivity to Fast Ethernet or Gigabit switches at remote locations.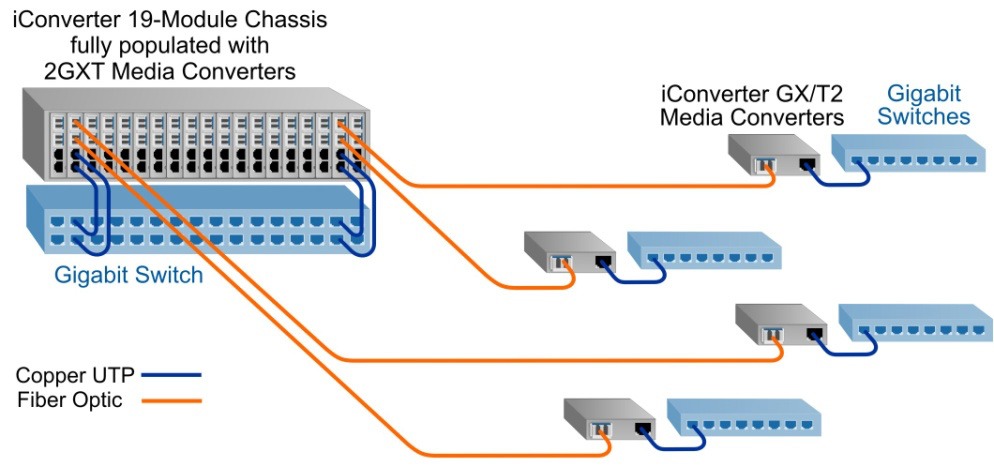 More High-Density Fiber Distribution Applications:
Managed Media Converters in a Campus Star Network
Unmanaged Media Converters in a Campus Star Network
Riser Management with Demarcation Extension of Ethernet and T1
Fiber Distribution to PoE Surveillance Cameras
---
Omnitron media converters are made in the USA, and backed with a lifetime warranty and free 24/7 technical support.
Please feel free to call me anytime to discuss how we can help you deploy high-density fiber distribution with Omnitron's reliable and cost-effective copper-to-fiber conversion products.