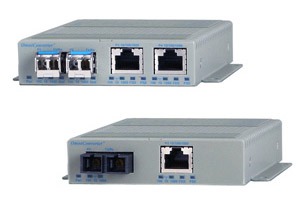 New from Omnitron-Systems, the 6-port OmniConverter GPoE+/SX converts 10/100/1000BASE-T copper to 1000BASE-X or 100BASE-X fiber, and injects Power-over-Ethernet. GPoE+/SX PoE media converters provide network distance extension with fiber cabling, and function as PoE injectors for up to four Powered Device (PDs) over standard UTP cables that carry the Ethernet data.
Models with two fiber ports support redundant fiber uplinks for critical applications that require protection and sub 50ms restoration in the event of a fiber failure. The second fiber port may also be used to cascade multiple media converters, or it may be used as another switch port.
Configurable features include Directed Switch Mode, MUX Mode, Dual PoE Device Mode and a PoE power reset.
---

In this application diagram, OmniConverter PoE injector media converters are deployed to overcome the distance limitation of UTP copper cabling by enabling fiber connectivity to PoE powered IP surveillance cameras and Wi-Fi access points. Gigabit fiber is distributed from a Ethernet switch at the network hub location.
OmniConverter GPoE+/SX media converters provide fiber connectivity and PoE power to two IP surveillance cameras and two access points at each location. The dual fiber ports enable a fiber daisy chain architecture that connects multiple surveillance locations. One port is the fiber uplink, and the other port is the fiber downlink to the next OmniConverter. Daisy chains are useful when deploying multiple PoE or PoE+ devices in a linear fashion along city streets, highways, rail lines, border fences, or pipelines.

AusOptic is an authorised Omnitron Systems partner in Australia