Introducing the new EXFO D-Series of OTDR solutions. Advanced field-testing tools for critical fibre deployments and network operations in FTTH and RAN Mobile networks, and data centres. Featuring five models. MaxTester 715D for last mile, MaxTester 720D for PON/access, and MaxTester 730D for PON/metro. Two further models are swappable FTB modules, the 720D for PON/access, and the 730D for PON/metro.
"The urgency to build out higher capacity networks requires appropriate testing tools that support network construction, activation, and maintenance. In pursuit of these needs, customers around the world have come to rely on our industry-acclaimed OTDRs, it is important to us that we continue to innovate and evolve our solutions as our customers' needs change. Today's announcement of best-in-class D-series OTDRs expands EXFO's leadership in this category, delivering more efficiency, versatility and time saving than ever before."

-- Étienne Gagnon, senior vice president, Test & Measurement, EXFO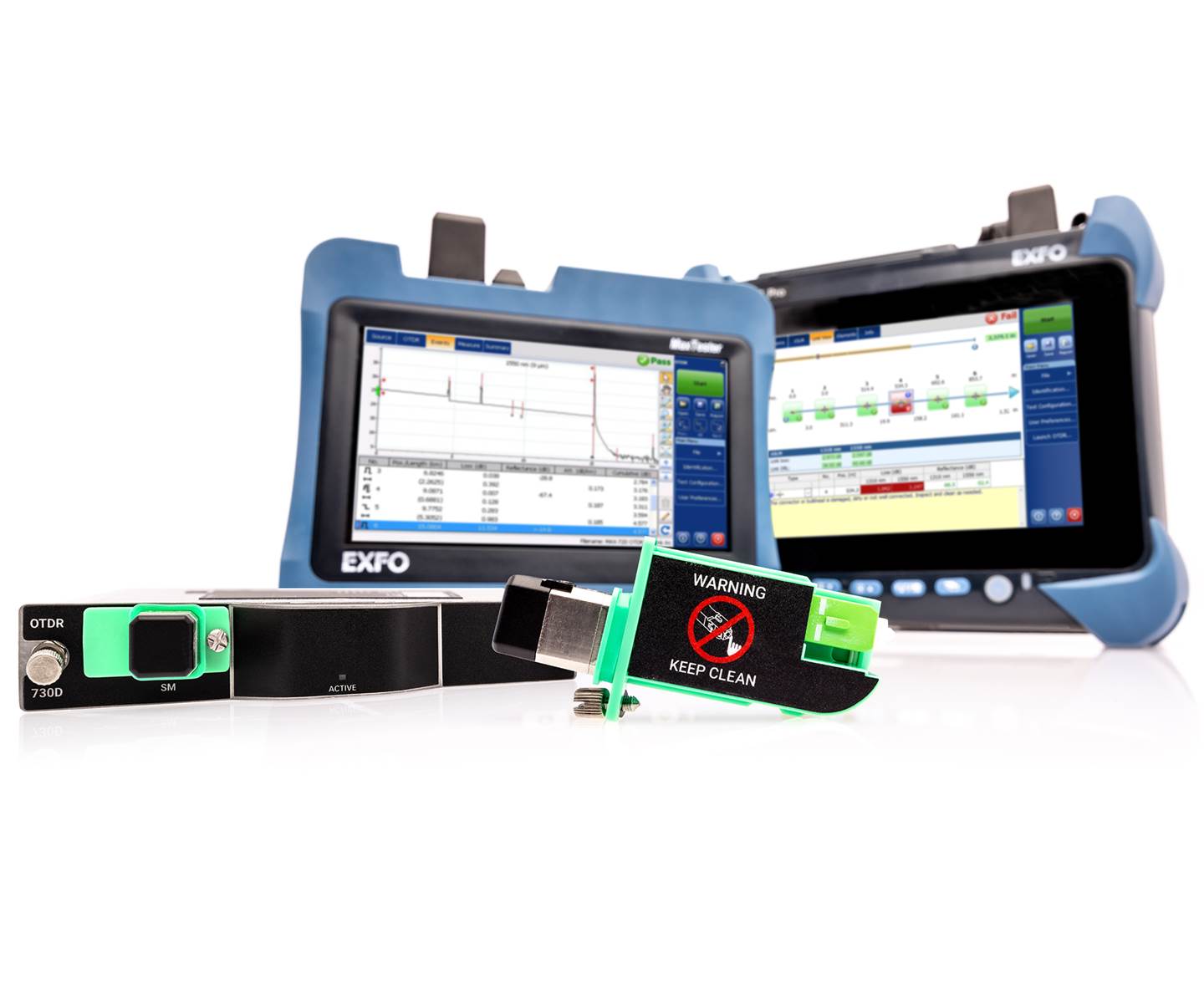 FTBx-730D - PON FTTx/MDU OTDR features
Dynamic range up to 39 dB for up to 132 km P2P
Support high port count PON splitters (up to 1×128)
Short dead zones: event dead zone (EDZ) = 0.5 m; attenuation dead zone (ADZ) = 2.2 m; PON dead zone = 30 m
FTTx in-service testing at 1650 nm with optional in-line GPON/XGS-PON power meter
Swap-Out connector, replaceable whenever necessary for optimal performance over time without undue service cost and downtime
iOLM-ready: one-touch multiple acquisitions, with clear go/no-go
3-year warranty
The D-Series combines several advanced features within a single solution to bring efficiency gains to OTDR field tests, which include field-testing tools to enable versatility and flexibility, critical to field technicians for fibre network construction, activation, and maintenance. EXFO's D-Series features an optical port connector health monitoring wizard, and field-swappable optical port connectors that can be simply replaced in the field once worn. This patented feature allows operators and contractors to benefit from optical performance throughout the entire life of the product without the extra cost and down time linked to returning units for changing worn connection ports, translating into significant cost of ownership savings.
New Swap-Out connector
The new EXFO D-Series OTDR modules come with a Swap-Out connector which can easily be changed without having to send the test module to a service centre. This ensures optimal performance over time without undue maintenance costs and downtime. The OTDR's optical connector health can be checked with an onboard diagnostic tool to replace the connector only when necessary.
Alongside these new features, EXFO's OTDR D-Series is part of a full ecosystem that connects to EXFO Exchange, a collaborative cloud-based software platform that unifies, automates and optimises field-testing, reporting, workflows, troubleshooting processes and more. All test plans, data and reports can be stored, shared and analysed collaboratively in real-time, bringing yet more field-test efficiency.
The D-Series OTDR also combines both optical link mapping and power measurement (optionally a dual-channel PON power meter) through the same optical connector port, allowing technicians to move between power checking to troubleshooting mode, without having to disconnect the fibre under test to swap to a separate power meter unit. This feature again substantially improves testing efficiency.
The new D-series and EXFO's end-to-end solutions supporting the entire test and measurement ecosystem is expected to be available for orders and demonstration in June 2023.
How can we help you with your OTDR testing requirements?
Contact AusOptic directly by sending us a message or calling our office on 1800 677 623