Furukawa Electric and AusOptic are proud to introduce the FITEL S179 Hand-Held, Core Alignment Fusion Splicer
Due for release in the 1st quarter of 2017, the next generation FITEL S179 offers world-leading performance, delivering fast and reliable optical fiber splicing, even under harsh environmental conditions.
The S179 refines the speed, precision, durability and portability of the S178A, and adds flexible new wireless connectivity options. The FITEL S179 Fusion Splicer is completely suitable for use with all Metro, LAN and FTTx fibers, including ultra-bend insensitive fibers.
The FITEL S179 Fusion Splicer's large-capacity battery system helps save time by allowing 200 splicing cycles (splicing/heating) in one charge. A 4.3-inch wide LCD screen with touch panel offers easy and intuitive operation and a proportionately wide splicing chamber makes optical fiber easier to load. For improved visibility in low-light conditions, 3 +1 LED lights illuminate the entire splicing chamber. A detachable left side V-groove makes cleaning and maintenance a breeze.
Careful attention was given to the real-world way users operate in the field, and the S179 Fusion Splicer has been optimised to provide consistent high-performance results under a demanding range of conditions. With a low profile, lighter chassis that enhances portability, the splicer's canopy design and ruggedised body provide resistance to shock, water, and dust exposure. A powerful, high propulsion motor (8N) helps ensure stable splicing of even the most rigid indoor and drop cables. Internal battery charging, embedded Near Field Communication (NFC), and Smartphone readiness combine with other features to make the S179 one of the most powerful and user-friendly fusion splicing machines in the world.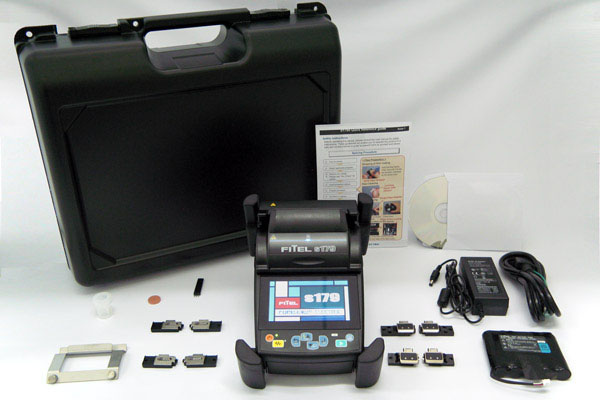 FITEL S179A Hand-Held Core Alignment Fusion Splicer
Designed with users in mind, the exceptional new FITEL S179 Fusion Splicer delivers rapid splicing and heating ability with consistent results, splice after splice.